Since moving to Lisbon, I have had a number of friends and friends of friends come to Lisbon looking for the inside scoop on my favorite things. I wanted to create a full guide of some of my favorite places, including where I would stay, where I would eat, and places to enjoy when visiting Lisbon on your trip that may be slightly off the beaten path… although not too far off because I am still exploring this great city myself. Here's my insider's guide to Lisbon.
An Insider's Guide on Where to Stay in Lisbon
When my friends or friends of friends mention they are coming to Lisbon, one of the first questions I get is "What are the best neighborhoods to stay in"? In my opinion, there are many options that will make for a really fun trip that will allow you to be centrally located and close to activities and restaurants.
My favourite recommendations for my friends in terms of neighborhoods are:
Chiado
Principe Real
Avenida
Estrela/Lapa
In some travel blogs, you'll see a couple of other neighborhoods mentioned, and here's why I think they are not great places to book your hotel:
Alfama: Alfama is the oldest part of the city, located just east of the main city center. Because of its age, Alfama is hilly, the streets are very small and layed with old style cobblestones, which makes getting to your hotel complicated and usually a bit of a walk. Alfama is a tourist-dense area as well so when you are looking to relax after a long day, it may be stressful getting back to a hotel or accommodation in this area. Alfama is a must-see area of the city when visiting Lisbon, but I believe there are better and more accessible areas to stay.
Barrio-Alto: Barrio Alto is the main party streets of Lisbon, with partiers enjoying themselves most nights until the wee hours of the morning. If you plan on being out and about in the city until 3-4am, then staying in Barrio Alto won't be a problem for you… but if you want any shut eye at any point during your trip, stay in another neighborhood.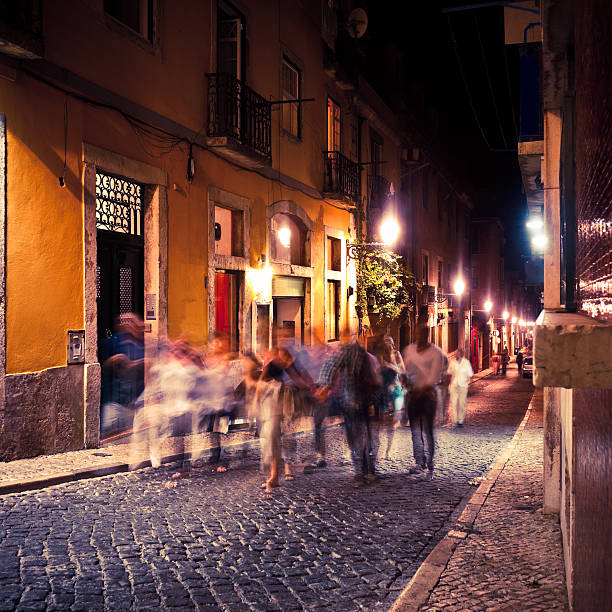 If you are looking for specific recommendations on where I'd want to stay when visiting Lisbon, here are some of my favourites:
Budget
I've stayed at Selina's all over the world and the Selina location in Lisbon is one of the best! Centrally located in the Santos neighborhood, Selina properties offer private and dorm rooms, co-working spaces, and restaurants onsite. The Lisbon location has a lovely rooftop area decorated with a bohemian vibe and a pool for those hot summer days. I know some Selina properties can be hit or miss, but the Lisbon location is a hit.
I stayed here six years ago when I first visited Lisbon and until this day, it's still ranked as one of the best hostels in Lisbon. For those booking the all-inclusive rate, they offer three meals daily with vegan & vegetarian options! I still remember the African stew one of the employees made! The rate includes all the FREE beers and sangrias you want during our bar hours (non-alcoholic options available) which brings everyone to the social areas and makes it really easy to make friends. Located close to Restauradores metro station, it's centrally located which allows you to access all the great areas Lisbon has to offer.
Mid-Range Hotels
Between the Botanical Garden and Parque Eduardo VII, Mama couldn't find a better place for you to discover Lisbon's lifestyle. Just a stone's throw from the lively Avenida da Liberdade with a breathtaking view of the ocean from the rooftop, you'll find this new setting in the heart of the French quarter perfect for your city breaks.
Casinha das Flores, which has long inspired countless Portuguese artists, is located in Chiado, in the center of the historic city of Lisbon, 200 meters from Bairro Alto. This picturesque guest house features comfortable rooms with free Wi-Fi and air conditioning.
An Insider's Guide to Lisbon Restaurants Worth Making A Reservation For/Adding to your Google Map
If you want delicious coffee…
If you want authentic Portuguese…
Zapata (€)
If you want seafood…
If you want vegetarian…
If you enjoy wine bars…
If you enjoy cocktails…
If you enjoy rooftops…
An Insiders Guide on Things to Do In Lisbon
My Favourite AirBnB Experiences:
Secret Supper Club – if you love a good dinner party, this is the experience for you. Expect it to be a later night because of the great conversation that ensues.
Sintra Jeep Safari Tour – a good mix of history and culture, and fun off-roading in a jeep in the beautiful Sintra park
If you have 48 hours:
Walk! You are going to walk the entire city and get in those 20,000 steps. Depending on what you want to see, you can use these 7 Self-Guided Walking Guides or take the easier route and sign up for a free walking tour. Then pick your favorite restaurant for dinner and wine/cocktail bar for post-dinner drinks and enjoy!
If you have 72 hours:
I would add in a day trip to Sintra! Sintra is a huge place so you'll only be able to see a bit of it in a day. There are a few options:
take yourself on public transit and explore the town and one-two castles/palaces
sign up for a tour via Airbnb Experiences or through your hotel
If you have one week:
Go surfing! Rent a wetsuit and a board and enjoy the waves off the coast of Portugal. I highly recommend: Go Surf Lisboa
Spend a day in Ericeira – see my guide here
Spend a couple of days in Porto – see my guide here

In conclusion, Lisbon stands as a vibrant tapestry of neighborhoods, each offering its unique charm and character. As you navigate through this insider's guide, I hope you've uncovered my personal favorites, and allow you to have a wonderful trip in my favorite city!